SAME DAY CROWNS **** COSMETICS (VENEERS) **** WHITENING
COSMETIC DENTISTRY
This can be anything done to correct imperfections in the appearance of the mouth. Anyone who is unhappy with their smile can have it fixed. The upper teeth show, usually, only when smiling, while the lower teeth remain hidden. This is reversed when talking, with the upper teeth remaining hidden while the lower teeth show. The color, alignment, spacing as well as regularity of the teeth are the characteristics that give the overall appearance. Any of these can be repaired to give an attractive appearance to your smile.
We offer a wide variety of cosmetic options. Some of these options are whitening, smile design, recontouring of the shape of the teeth, veneers, bonding, all ceramic/porcelain crowns, and implants.
---
Veneers
Veneers are a dental procedure in which a covering is placed over the outside (visible area) of the tooth. Veneers are usually only done to the part of the teeth that are visible when talking or smiling. There are two basic ways to do veneers.
The direct technique usually involves placing composite resin (tooth-colored filling material) on the outside of the tooth. This method is usually referred to as bonding.
The indirect technique usually involves two appointments because the veneers will be fabricated at a dental laboratory. At the first appointment the teeth are prepared, impressions taken, and the teeth are given a temporary covering. In two to three weeks the veneers are back from the laboratory, the temporaries are removed and the veneers are bonded to the teeth. The laboratory fabricated veneers are made using porcelain or pressed ceramic, and are very esthetic. Porcelain veneers are very durable and do not stain or change color over time. The advantage of veneers versus crowns is that much less tooth material is removed, and the procedure is generally easier. Veneers are recommended for teeth that are in good general shape where only the appearance and shape are the concern.
---
Crowns
Crowns are full coverage restorations that are used to cover a tooth that is likely to break or is too broken down to be restored with a filling. They are most commonly done after root canal treatment, or when a large filling wears out. The larger the hole made by a cavity that has to be treated, the more likely a crown will be needed. Even after a filling is put in a large cavity, a tooth is more likely to break. Keep in mind that the jaw muscles are the strongest in the human body. Teeth are subjected to tremendous pressures. Crowns form a complete cover over a weakened tooth, providing strength and protecting the tooth against breakage. A broken or cracked tooth is a far more serious matter and much more difficult to treat. Crowns prevent this, as well as make for a nice smile. We have two options for crowns in our office.
Option 1: Cerec Crown or Bridge - Same Day Dentistry
What is A CEREC® Single Appointment Crown or SAME DAY CROWN?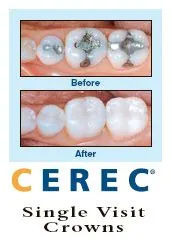 CEREC® comes from the dental terminology, CEramic REConstruction. It means that Dr. Stephenson can conservatively restore damaged teeth in a single appointment using a high-quality ceramic material that is strong and durable, and that matches the natural color of other teeth. The process replaces the traditional "crown/cap" and allows a higher-quality, more natural replacement with material that closely resembles natural tooth enamel.
Option 2: (Case-specific)
Lab fabricated crowns and bridges (which are explained below) take two appointments to restore a tooth or teeth. In the first, any decay is removed from the tooth and it is shaped to accept the crown. Then an impression is made of the tooth for use in fabricating a crown. Between the two visits, the crown is made.
The majority of our crowns are SAME DAY CROWNS - all-ceramic crowns, but occasionally (for added strength) a gold-based alloy is incorporated underneath the porcelain, or titanium fused to porcelain crown may be the best option. During this time a temporary crown is worn. In the second visit, this temporary is removed and the lab fabricated permanent- the crown is cemented in place.
---
Bridge
This is an option for filling the space created by a missing tooth. The sides of a bridge use the two surrounding teeth for support, hence the name. A bridge replaces the missing tooth both functionally and cosmetically. Bridgework is as much an art as it is an exact science. The materials used may be gold alloys, porcelain bonded to metal alloy, or all ceramic material. The choice of material depends on requirements for strength, wear, and/or esthetics.
It is important that a missing tooth be replaced as soon as possible for several reasons. If not treated the teeth surrounding the gap begin to shift inward, creating a whole chain reaction of bad things. Teeth use their neighbors for support, and with one missing, they start to "drift." As this worsens, the bite changes in response to the pressure. This can eventually result in problems with the entire jaw, e.g. TMJ. The surrounding teeth deteriorate and it is just a matter of time before they, too, are lost. Gum disease can become a serious problem, with the difficulty of treatment increasing as the neglect continues.
Other options for replacing missing teeth: Implants ... Partials .... Dentures
---
Whitening
This is the procedure of making teeth whiter, and therefore more attractive. Our office offers two whitening options:
1. Sinsational Smile -Whitening In-Office System (One Time Application)
Fast, Easy, and Effective
Sinsational Smile is the original 20-minute in-office teeth whitening system. Sinsational Smile uses fast and effective technology with our patented pre-filled silicone tray. This allows the jaw to remain relaxed and comfortable throughout the treatment. This procedure includes the use of an LED accelerating light that helps to activate the gel's whitening ingredients at a faster rate, resulting in a brighter smile and whiter teeth in less time. As part of your procedure, you will also receive a take-home maintenance pen to further extend your new brighter smile!
---
Dentist's #1 Choice
Awarded BEST in-office whitening system 2015, 2016, 2017, 2018 by The Dental Advisor and the top-selling in-office whitening product of the largest US dealers. Over 10,000 dental professionals are already using Sinsational Smile - the ONLY Green Certified teeth whitening system in the world. Sinsational Smile is rated 4+ by The Dental Advisors with a 91% clinical rating, making it the top in-office teeth whitening system in the US.
---
No Sensitivity
98.1% of Patients experience ZERO sensitivity while using Sinsational Smile Whitening*. Sinsational Smile was engineered to be an effective, affordable, and pain-free treatment. Our patented process doesn't require uncomfortable prep time or the use of gingiva blocking or retractors. The secret is our patented silicon whitening tray which keeps oxygen off the teeth during the process and which allows the gel to maintain its efficacy longer without zingers or burns.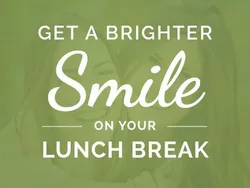 ---
Industry Leading Value
The Sinsational Smile teeth whitening system was designed to complement semi-annual teeth cleanings. Clinically proven to work in 20 minutes without sensitivity, Sinsational Smile is the most successful teeth whitening system in the country. Thousands are utilizing this eco-friendly system because of the one-minute prep time, realistic 2-5 shade change, and its low affordable price.
2. Whitening For Life Take Home Custom Trays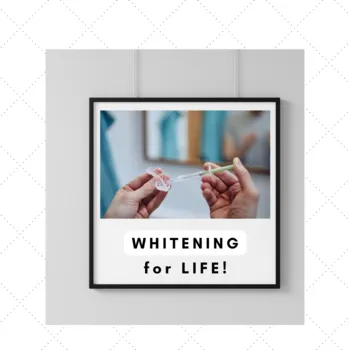 Custom fabricated trays for the Upper & Lower Teeth. The White For Life take Home Tray Programs initial enrollment includes:
Upper and Lower custom fit trays
Two 2 syringes of whitening gel. (slow release carbamide peroxide).
Every 6 months at your Exam & Cleaning visit a "FREE" syringe of Whitening Gel
The program is designed to keep you on track for your twice-annual exam and cleaning PLUS the extra benefit of white teeth. You will receive a FREE syringe of whitening gel at each 6-month visit for life as long as are consistent with your oral hygiene maintenance schedule. If you are absent for more than a year you will need to re-enroll in the program to continue to receive the benefits.
The Whitening Gel is a slow-release carbamide peroxide formula and is a (35%) concentration. We have the whitening syringes in the office available to purchase for continued whitening in between your hygiene visits. The cost is a minimal $15.00 per syringe. (#of whitening uses per syringe varies per person)
Happy Whitening! If you are interested in whitening please ask us for the details on your next visit.