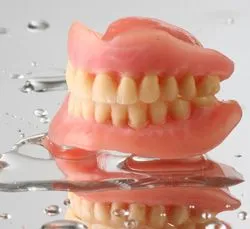 Services offered:
• 29 years of experience making dentures
• Full set and single dentures • Partial dentures (cast metal and acrylic) • Repairs • Relines • Implant Retention/Stabilization • Adjustments
---
DENTURES

Custom dentures require additional steps to assure a more natural look. The teeth used for these dentures (IPN Portrait teeth) are more aesthetic, longer wearing, and offer a wider range of shapes, sizes, and tooth shades. Also, the acrylic base material is available in five different hues for a better personal match and a more life-like appearance. The denture teeth are set in a wax base for a try-in appointment so that you (and the dentist) can see how the denture(s) will look before completion. You can make changes to suit you, consistent with your preferences. After you have approved the look of your Custom Dentures, they will be processed with high-impact Lucitone acrylic!
We offer a three-year limited warranty.
---
Implant Retained Denture Options:
For denture wearers who want to stabilize an existing lower denture, traditional implants work best and, since they have a removable/changeable top (abutment), these can be updated at a later date if desired. We charge $2590 to place two (2) traditional implants. The abutments are $486 each including the parts that embed into the denture. So, the cost is $2590 + $972(abutments) + $1838(denture) = $5400 per denture. In most cases, existing dentures may be retrofitted and can be used. if this is not the case a new denture will be necessary and is an additional fee.
---
PARTIAL DENTURES
Acrylic partial dentures are the least expensive option. The Economy partial has an acrylic base (like a denture) upon which the teeth are set and is attached to natural teeth with small stainless metal clasps.
We offer a 6-month limited warranty.
Cast metal partial dentures are stronger, less bulky and, generally, fit better. Cast partials are made using a cast metal framework to which the laboratory will attach denture teeth. These partials take two to three weeks to make since our special metal framework is made by an outside laboratory.
We offer a two-year limited warranty.
---
We invite you to contact Mark Stephenson, DDS at 919-241-5161 for all of your Cosmetic Dentistry and Dentures questions.