We Welcome and Thank You for Your Referrals!!
---
YOUR "FREE BRACES CONSULTATION" INCLUDES
EXAM AND X-RAYS!
You can have STRAIGHT TEETH in as little time as 6-12 months.
Call us TODAY and schedule yours!
919-241-5161
---
Welcome to Colonnade Dental
It is with the greatest pleasure that we welcome you to our family dental practice. Dr. Mark Stephenson has been in family practice for over thirty-five years and is well versed in the dental field as well as the latest technology.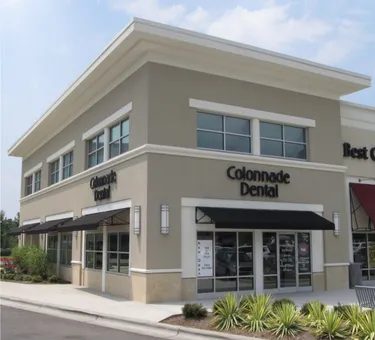 Our dental team is very proud of the full line of dental services and products that we offer including digital x-ray technology, Same Day Crowns made in our office with the Cerec, and the new oralID lifesaving oral cancer screening test.
We also offer several orthodontic (braces) systems: Fastbraces (braces in as little as 120 days), Roth Brackets (same brackets most orthodontists use), and clear aligners using the Sun Clear Aligners.
In the Global Fastbraces system, Dr. Stephenson has achieved Senior Master Affiliate status due to the number of successfully submitted cases.
To Date: Dr. Stephenson has completed 500 Plus Ortho cases with 100 Plus in active treatment today.

---
600 Plus New Smiles and counting!!
SAY CHEEZ!

*** WE HAVE GONE DIGITAL ***
Our Office is proudly working hard to reduce our carbon footprint by the amount of paper we waste and shred each year.
We no longer accept paper forms - our office is chartless & NOW digital. All forms need to be completed via email or text message. We will send you the link to follow or you may download the app and register for your secure patient portal.
Sign Up here for your secure Patient Portal - You will the ability to:
Update Information: i.e..mobile number, address, insurance, or changes to your medical history, Complete Required (Updated Yearly) Paperwork/Consent Forms, and submit. Once submitted it integrates directly into YOUR CHART in our practice software.
What to expect at EVERY office visit: You must complete & submit a Covid Screening Questionnaire via text or email. Your temperature will be taken in the office at check-in. Visitors are discouraged, if you must bring a visitor to your appointment the visitor's temperature will also be recorded.
Thank you for your understanding & patience.
---
OFFICE HOURS:
MONDAY & WEDNESDAY : 8AM - 5PM (LUNCH : 12:30-1:30PM)
TUESDAY & THURSDAY: 7AM -3:00PM
1, 2, AND 3RD FRIDAY: 8 AM-NOON
EVERY 3RD SATURDAY: 8 AM - 4 PM (LUNCH: 12-12:30 PM)
CLOSED THE FRIDAY FOLLOWING THE SATURDAY THAT WE ARE OPEN
Office Closures: If you have an emergency please call our office at (919)241-5161 for instructions.
Office Hours are updated on our Facebook & Google for current closures and holiday hours. Please follow our pages for updates.
---
Mark Stephenson, DDS specializes in the following services:
General Dentistry
Cosmetic Dentistry
Family Dentistry
Dentist Raleigh NC
ClearCorrect/Orthodontics
Braces Raleigh NC
Dental Veneers
Dentist >
Dentist Raleigh NC >
Find A Dentist